primary School Meals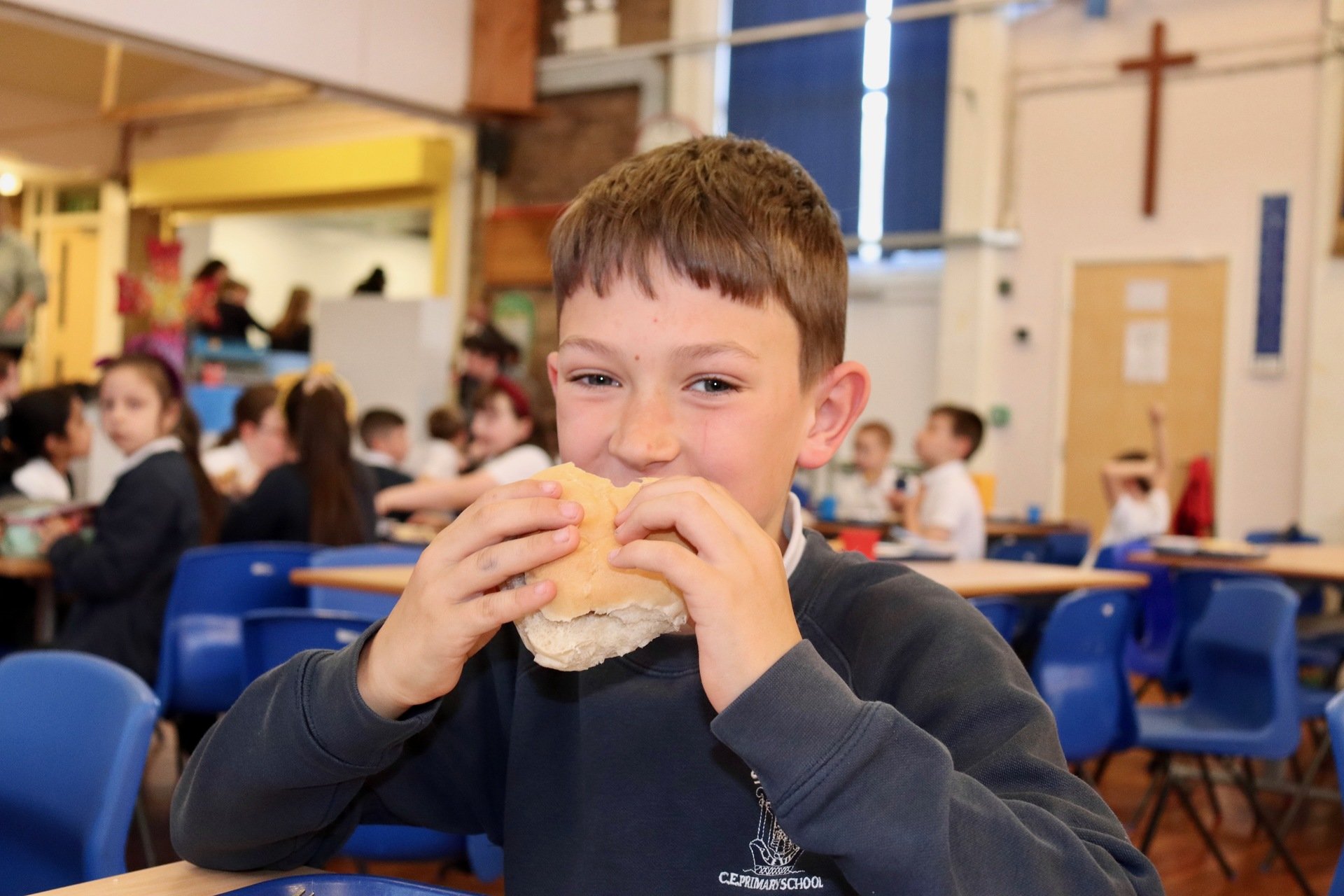 Information about School Meals at St Paul's
Introduction
At St Paul's, our school meals are provided by Bury Council and our school kitchen offers both hot and cold nutritious meals, with a wide variety of choice.
What do I do if I want my child to have school meals?
On the first day of each school year, your child's class teacher will check who is having school meals or a packed lunch.. If you want your child to change to school dinners mid way through the year, you should inform the school office. Also if you wish your child to stop having school meals, you should also inform the school office. If you could please give the school a week's notice.
How do I pay for school dinners?
All children in Reception, Year 1 and Year 2 receive FREE school meals. This is a government scheme called Infant Universal Free School Meals
If after, the end of Year 2 you wish your child to continue to have school meals, you will either pay for the meal or you will need to apply for free school meals. (Please see below)
How much do school meals cost?
Primary school meals cost £2.30 per day. If you need to pay for school meals, please send your child's money into school on a Monday in a sealed envelope with your child's name on the front. We do have money bags and slips at the main office. School meals can also be paid for with qa cheque.
What will my child eat?
On offer each day there is:
A minimum of two choices of main course with vegetables or salad, plus potatoes or an alternative carbohydrate such as pasta In many schools there is also a third choice option of jacket potato with a variety of fillings

Two choices of dessert or fresh fruit

Extra bread

A non meat choice

A drink which could be fruit juice, milk or water
The school menus run on a three week cycle which is changed twice a year to avoid repetition and introduce new dishes.
Please click here to see Bury Council's school meals menus.
What if my child has an allergy or cannot eat certain foods?
The school meals service can cater for all needs and allergies, just inform the school office of your child's dietary requirements.
All children in Reception, Year 1 and Year 2 get a free meal at lunchtime, under the government's Infant Free School Meals scheme.
However, if you are in receipt of the benefits below you will also need to apply for Free School Meals. This is because schools receive extra funding from the government for each eligible child, which they can spend on things which will benefit your child's education.
From Year 3 onwards Free School Meals are only available if you receive any of the following;
Universal Credit – and your earned income is less than £7,400 a year (after tax and not including any benefits you get).

Income Support

Income based Job Seekers Allowance

Income related Employment Support Allowance.

Child Tax Credit with an annual income that does not exceed £16,190 and you are not claiming Working Tax Credit.

Guarantee element of State Pension Credit.

Support under part VI of the Immigration and Asylum Act 1999.
You will also be entitled to £15 per child, per week in supermarket food vouchers each half term. This was introduced during COVID.
REMEMBER if your circumstances change at any time during the academic year you can still apply for Free School Meals.
You can apply by:
Filling out a form from Bury Council.

Please click

here to fill in the form. You will need your National Insurance Number to fill in this form.

Ringing Bury Council on 0161 253 5858

Speaking to Mrs Jones or Mrs Openshaw in the office.