'No act of kindness , no matter how small, is ever wasted.
Aesop
Mental Health & WELL-BEING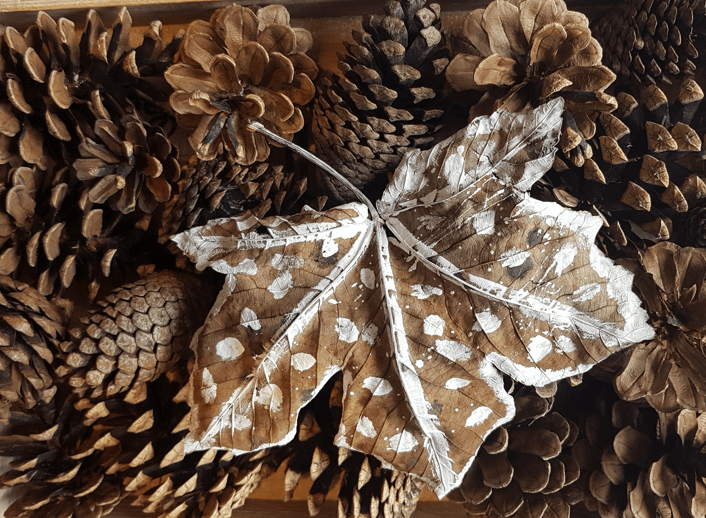 We believe passionately in the value of children learning how to support positive mental health. We want them to understand that times can be challenging in all our lives, but that we can do something about it! Support for well being and positive mental health education is woven throughout our provision - through the Healthy Relationships and PSHE curriculum, in collective worships and special events. Below are just some of the ways that we help our children to understand more about well being and mental health.
The recent Coronavirus pandemic has resulted in heightened concern about mental health for many.
The NHS has developed the following site to advise parents and families on supporting their children's mental health.
Click here to check it out for some excellent information and guidance:
The definition of mental health in the national 'No Health without Mental Health' policy is this: mental health is a positive state of mind and body, feeling safe and able to cope, with a sense of connection with people, communities and the wider environment.
Mental health is an individual's level of psychological well being, which can affect a person's mood and their thoughts, and can sometimes dictate their behaviour. Everybody has mental health, and it can be better, worse or fluctuate depending on the individual and their current life circumstances. Levels of mental health are also influenced by the conditions people are born into, grow up in, live and work in.
Mental health includes our emotional, psychological, and social wellbeing. It affects how we think, feel, and act. It also helps determine how we handle stress, relate to others, and make choices. Mental health is important at every stage of life, from childhood and adolescence through adulthood.
What is Good Mental Health?
Mental health really means the state of your emotional wellbeing, which affects how you think, feel and behave. Having good mental health means more than just not having a mental health disorder; it means that you are able to make the most of your life, reach your potential and cope with the ups and downs of life. Mental health is just as important as physical health for living a happy, healthy and well-rounded life.
The World Health Organisation (WHO) defines good mental health as allowing someone to:
Realise their abilities

Cope with the normal stresses of life

Work productively

Make a contribution to their community
Having good mental health is vital for both individuals and communities to thrive. This is because it allows us to connect with ourselves and others, earn a living and enjoy life.
There are a lot of things that can affect our mental health, but one of the main things is stress. This stress can be caused by many things, such as; our jobs, relationships, physical health and perceptions of ourselves.
Other factors, such as difficult life experiences, can really affect our mental health and cause more serious issues. For example, poor mental health is associated with job losses, relationship problems, stressful work conditions, gender discrimination and many more factors. It is important we have access to help and support for our mental health when we need it.
More research into mental health is being conducted and it is becoming more important than ever to ensure that you are looking after your mental wellbeing in the same way you would take care of your physical health.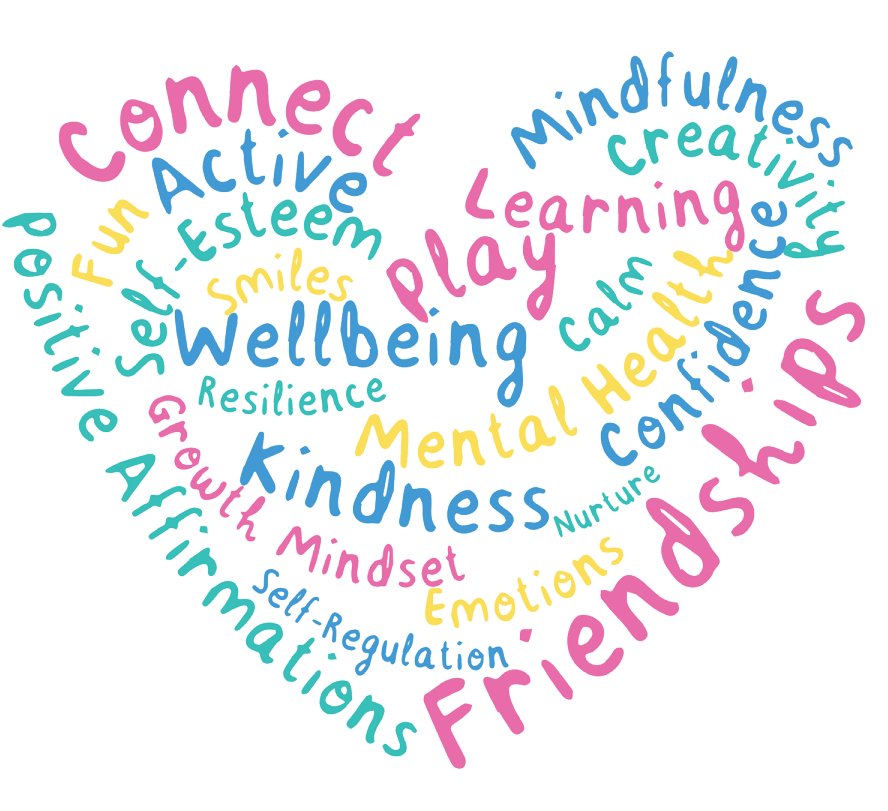 Well being is defined as the state of being comfortable, healthy, or happy. It includes having good mental health, high life satisfaction, a sense of meaning or purpose, and being able to manage stress. More generally, well being is just feeling well.
It's important for a well being definition to include that well being doesn't simply mean being happy. While it does include happiness, well being also includes other things, such as how satisfied people are with their life as a whole, their sense of purpose, and how in control they feel.
Mental well being also doesn't have one set meaning; we might use it to talk about how we feel, how well we're coping with daily life or what feels possible at the moment.
Having good mental well being doesn't mean you're always happy or unaffected by your experiences. But having poor mental well being can make it more difficult to cope with daily life. Having good wellbeing is about finding ways to look after yourself both physically and mentally, in order to better cope with the stresses, anxieties and experiences that life throws at us.
Well being encompasses all different areas of health: physical, mental and emotional. It's important to look after all of these areas in order to maintain healthy well being overall. There are also external factors that affect our well being, such as economic and social conditions.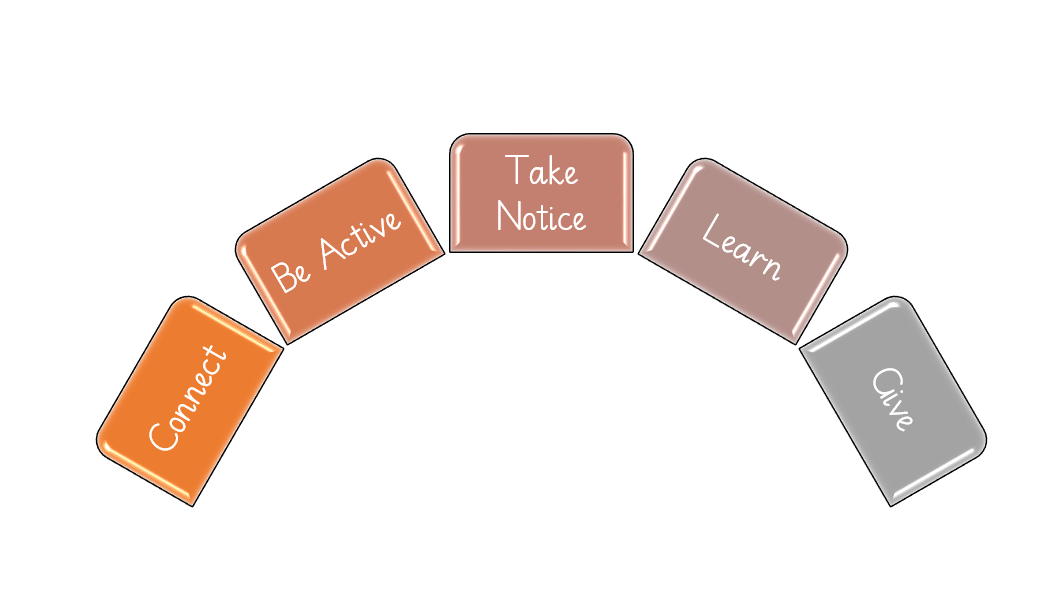 The following steps have been researched and developed by the New Economics Foundation.
Connect
Building and maintaining positive relationships with people can be an important part of well being.
Spending time speaking to positive and supportive people can help you have a better self-image, be more confident and feel able to face difficult times.
For example:
• telephoning a friend or relative to see how they are
• asking how someone is and really listening when they tell you
• arranging to speak with a colleague(if you are an adult), friend or an adult at school
Be Active
Regular exercise can lift your mood and increase your energy levels. It doesn't have to be strenuous or sporty to be effective.
Pick something you enjoy so you're more likely to stick with it.

For example:
• going for a walk during your day
• following a workout video
• doing some 'easy exercise', like stretching, in the morning and before you go to bed
Take Notice
Take time during your day to be more aware of your surroundings and notice the present moment.

Whether it's pausing for a tea break or talking to a friend, be aware of the world around you and reflect on what you're feeling. It can help you appreciate what's going on around you.

For example:
• getting a plant for your home
• taking notice of sights and sounds outdoors
• switching off technology, such as your mobile phone
• taking notice of how your friends or family are feeling or acting
Learn
Setting challenges and learning new things can improve your confidence and add fun to your day.
You could rediscover an old hobby, sign up to a course or try learning a new skill, such as playing a musical instrument.
For example:
• finding something out about a colleague or a friend
• doing a crossword or Sudoku
• researching something you're interested in
• learning a new word

Give
Giving can be a great way to look after your well being.
People who show a greater interest in helping others are more likely to rate themselves as happy. Allow yourself time to recognise how your goal gives something back to your community.

For example:
• volunteering your time
• supporting your community
• doing something nice for a friend
• thanking someone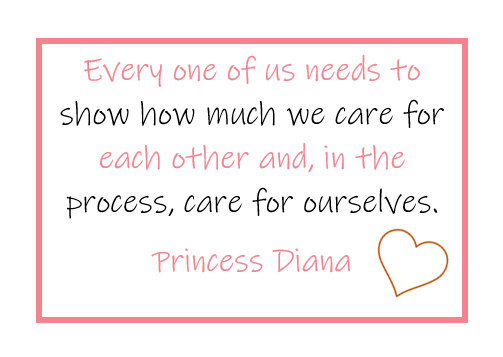 10 Ways to Help Your Children with their Mental Health
| | |
| --- | --- |
| Role Model | Be a positive mental health role model. Demonstrate positive behaviours which your child can learn from you. |
| Talking | Support your child to talk about their problems and how they are feeling. |
| Coping Skills | Work with your child to develop coping skills. Support your child to learn skills such as problem solving and thought challenging. |
| Well Being | Promote healthy eating and physical activity. Exercise is a great tool to boost mood and reduce stress and anxiety. |
| Self - Care | Make sure your child has time and space to look after themselves. Involve yourself in their hobbies. |
| Making their own Decisions | Allow your child to make their own decisions. This will help to build resilience. |
| Relationships | Support your child to build positive relationships with friends and family. |
| Relaxation | Help your child to relax. Teach them relaxation skills such as deep breathing. |
| Play | Promote play and creativity among your child. Allow them to explore. |
| Sleep | Support your child to build positive sleep habits. Develop a good sleep environment with your child. |
Click on the links below to find our more information on Mental Health and Well Being in Children