'Heal me, O LORD, and I shall be healed, save me, and I shall be saved, for you are my praise.'
Jeremiah 17:14
Tallulah - Our School Dog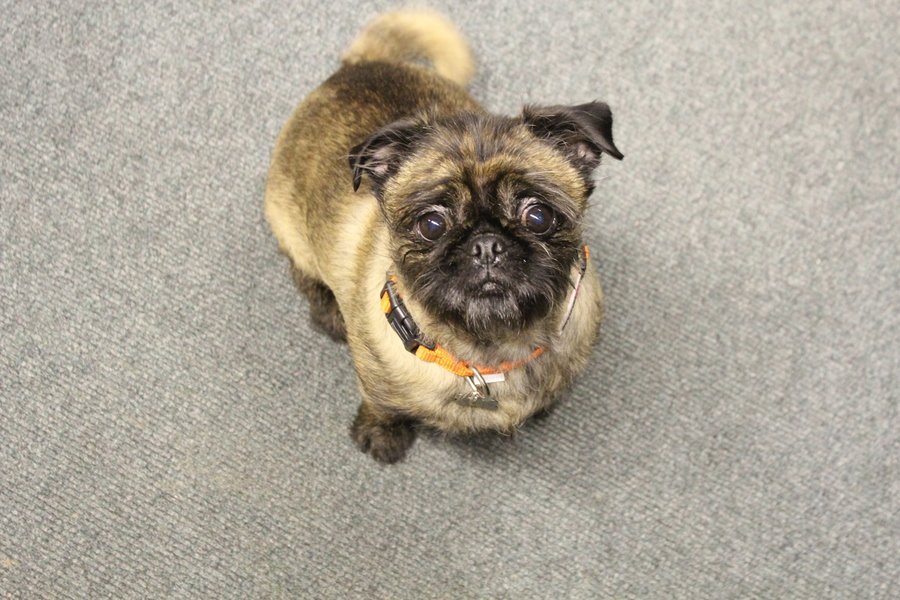 Why do we Need a School Dog?
St Paul's staff have wanted a school dog for a long time, we realised that the benefits of having a school dog are massive and could help so many of our children.
Some of the benefits of having are a school dog are
Children can benefit educationally and emotionally.

Children can increase their understanding of responsibility.

Children can develop empathy and nurturing skills through contact with a dog.

Dogs can teach children patience.

A dog in school can help to improve children's attendance.
In addition to these benefits, children, parents/carers and staff can take great enjoyment and pleasure from their interactions with a school dog.
Our School Dog - Tallulah
Our school dog is called Tallulah, she is a cross between a Pug and a Shih Tzu, so she is a SHUG! This also means she is a super chilled out dog. This breed of dog is very affectionate and loves having human friends.
Tallulah belongs to Mrs Morris and she has been her pet since she was a puppy. Tallulah is seven, so she is a mature dog, who loves food and treats. This also makes her a perfect school dog.
Tallulah and her 2 school handlers (Miss Dootson and Miss Morris) have been extensively trained by The Dog Mentor. The trainer spent time in school, ensuring Tallulah had the correct temperament and attitude to be a great school dog. Tallulah passed with flying colours, becoming the perfect school dog (her handlers did OK too!).
Click here to find out more information about The Dog Mentor's training programme.
Tallulah's Job Description
This is what Tallulah does while she is in school. She
can provide comfort to children who are upset or have experienced trauma.

can help help who need to regulate their emotions.

can provide a calming effect on children, particularly those with behavioural or learning difficulties.

can encourage expression and participation in children who can appear withdrawn.

can foster a sense of responsibility

can improve behaviour, attendance, concentration

can reduce stress and improve self esteem

can motivate children to think and to learn, as most children have a high level of natural interest in, enthusiasm for and enjoyment of animals.

can encourage respect and thereby improving children's relationships with each other, parents/carers and school staff.

can help by working with the most vulnerable children.

can help educational improvements with lower achieving children.

can help children with reading, without judgement.
Frequently

 Asked Questions
| | |
| --- | --- |
| Question | Answer |
| Who is the legal owner of the dog? | The legal owner of the dog, is Mrs Morris and she will incur any costs. |
| Is the dog from a reputable breeder? | Tallulah is 7, she was a rescue dog from another family, when she was 6 months old. |
| Will the Tallulah be a distraction for the children? | Tallulah will be kept in the Head Teacher's office. This is separate from the classrooms and the playground. This will help to ensure that Tallulah does not come into contact with children whose parents/carers have requested that their child does not have contact with Tallulah. |
| Has a risk assessment been undertaken? | Yes, we have carefully considered having a dog in school and we have sought advice from many sources, including other schools. The school's Health & Safety consultant has also been involved in assessing the risk and writing the risk assessments. |
| How will the dog be toileted to ensure hygiene for all? | In the interest of health and hygiene, Tallulah will be toileted when taken out for short walks at the front of the school. |
For more information click on our documents below: