'There is no such thing as a child who hates to read, there are only children who have not found the right book.'
Frank Serafini
Read IT!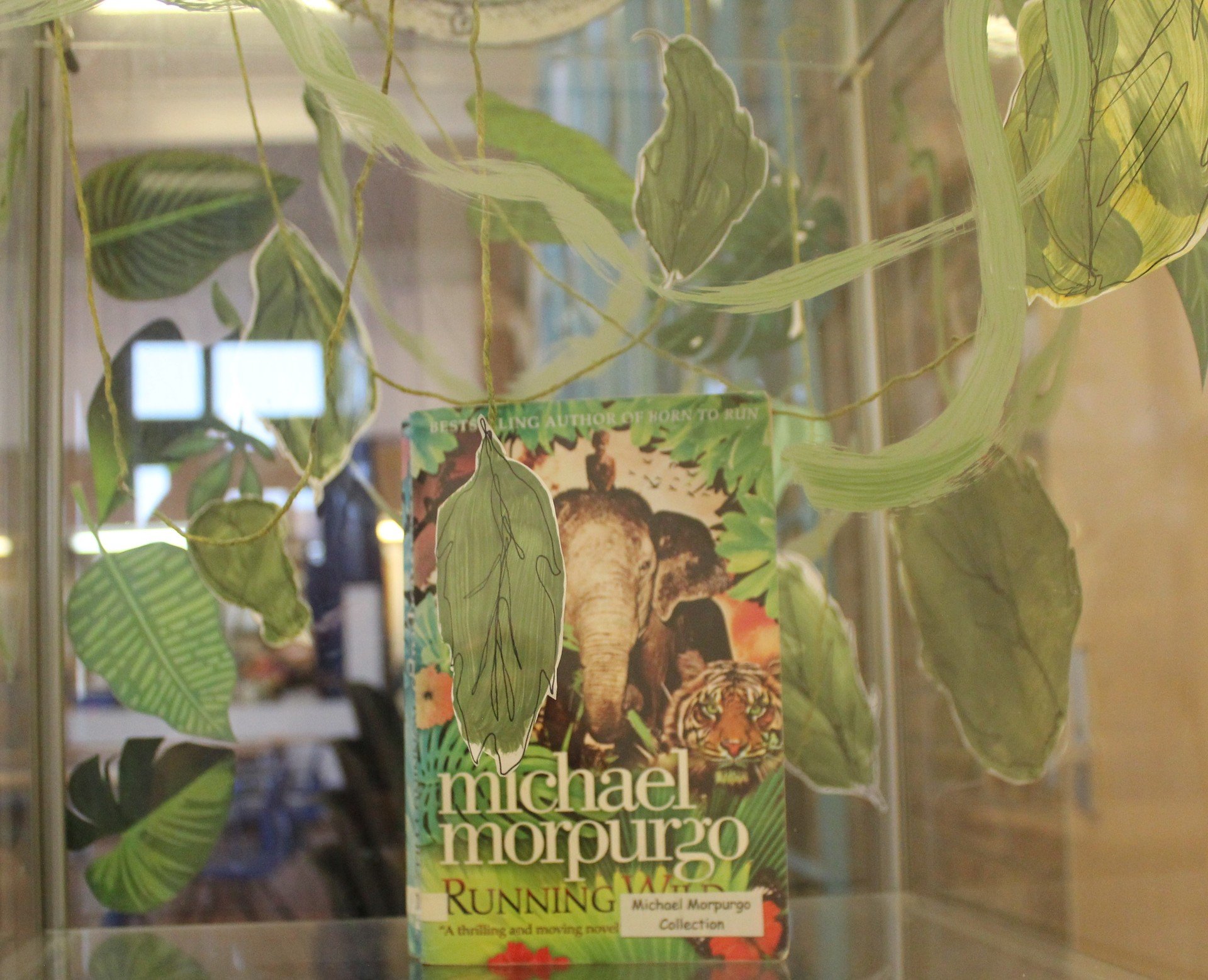 Reading has the highest priority at St Paul's.
We want all of our children to leave school being able to read independently, to have a love of books and a love of what they read.
Miss North and Miss Wilkinson are our reading subject leaders.
This is what they say about reading.
As a child I loved reading and share many of the books that I had as a child with my class today. Books have the power to take you to other worlds, countries and learn about other people and cultures that you may not get to experience or meet first hand. I want every child at St Paul's to have the skills and knowledge to be able to access these rich stories and develop a passion for reading that will stay with them for life.
There is something undeniably special about reading books; they take us beyond our world and spark our imagination; they allow us to feel emotions and connect with characters; and they increase our cultural knowledge and acceptance. Inspiring a love of reading is of great importance to me, as all children deserve to enjoy books – and there are so many different books to explore! I love reading aloud and sharing stories with my class, especially when I leave them on a cliffhanger!
Miss Wilkinson
 Our Read It! Curriculum
Our Read It! Journey begins with the high quality teaching of phonics and reading from day one in our Reception class.
Our reading curriculum provides a diverse and wide range of stories, non-fiction texts and poems to inspire and engage the children at St Paul's.
We have created our own Read It! journey based on the context of our school which compliments the wider curriculum subject disciples for each year group. This has been carefully designed to ensure that children at St Paul's have opportunities to explore texts written by different authors, read books that encompass a range of cultures and traditions and experience a variety of different story genres.
Our Read It! journey, along with our extensive range of books within our school library and our teachers excellent knowledge of children's literature, helps to prepare our children to make informed choices when reading for pleasure.
We Love Reading at St Paul's
What a Good Reader Looks Like
This is what a good reader at St Paul's looks like at the end of each year group.
RECEPTION

YEAR ONE

YEAR TWO

End of Key Stage One

It is our aim that the children who leave Reception will have a positive attitude towards reading along with the solid foundations of early reading skills.

The children will be able to develop these skills as they continue on their Read it! Journey through St Paul's.

It is our aim that the children will leave Year One as inquisitive readers that have a sound knowledge of phonic skills to enable them to decode words as they continue their reading journey.

The children will be able to develop these skills as they continue on their Read it! Journey through St Paul's.

It is our aim that the children leave Key Stage 1 with all of the phonic skills required for them to be ready to access the objectives that lie ahead for them in Key Stage 2.

We wish for them to leave Key Stage 1 as increasingly sophisticated and motivated young readers.

The children will be able to develop these skills as they continue on their Read it! Journey through St Paul's.
YEAR THREE

YEAR FOUR

YEAR FIVE

YEAR SIX

End of Key Stage Two

It is our aim that the children will leave Year 3 having been immersed in a range of new genres and text types. They will have started to develop their comprehension skills that will enable them to study texts in even greater detail as they continue their Read It! reading journey throughout Key Stage 2.

The children will be able to develop these skills as they continue on their Read it! Journey through St Paul's.

It is our aim that the children will leave Lower Key Stage 2 as fluent and confident, independent readers who have all of the skills required to be able to read for both pleasure and for purpose effectively.

The children will be able to develop these skills as they continue on their Read it! Journey through St Paul's.

As the children prepare to start the final year of their Read It! reading journey with us, we expect them to leave Year 5 as increasingly sophisticated reading critics who can competently analyse a wide variety of text types. We want them to enter their last year as articulate learners who can discuss and argue for their views and opinions.

Our Year 6 readers will leave our school being able to retrieve, record and present information from non-fiction texts. As they go to high school they will be able to use non-fiction materials for purposeful information retrieval (e.g. in reading history, geography and science textbooks).

It is our aim that the children will leave us with all of the reading skills required for them to excel in high school and beyond.

As the children complete their journey with us we want them to leave with a love and appreciation of reading that will continue to give them pleasure for the rest of their lives.
This is what our children say about Good Readers in St Paul's.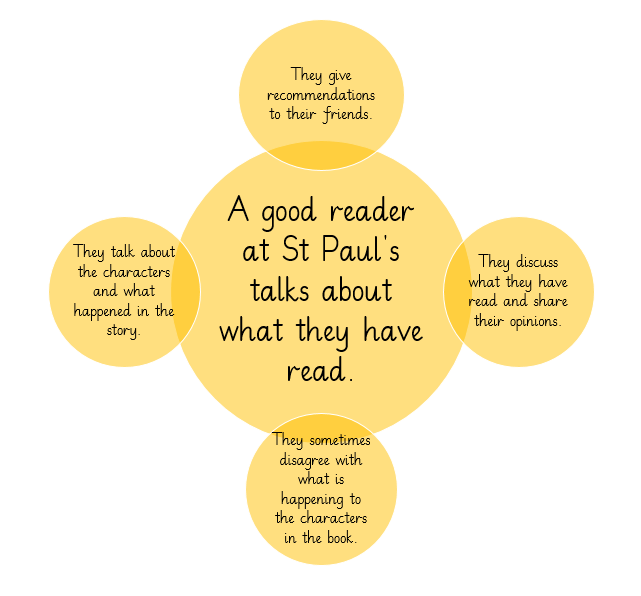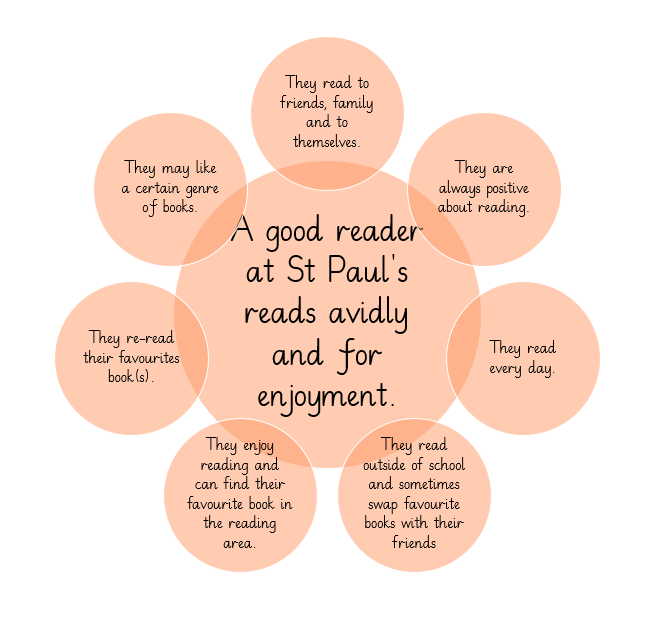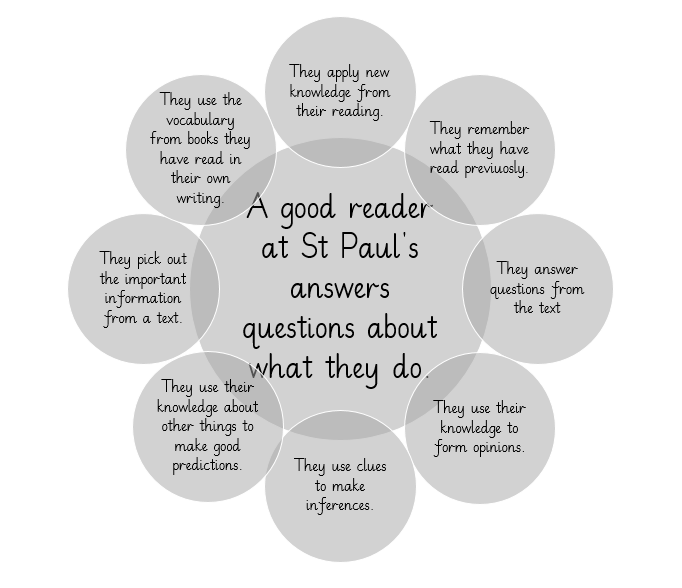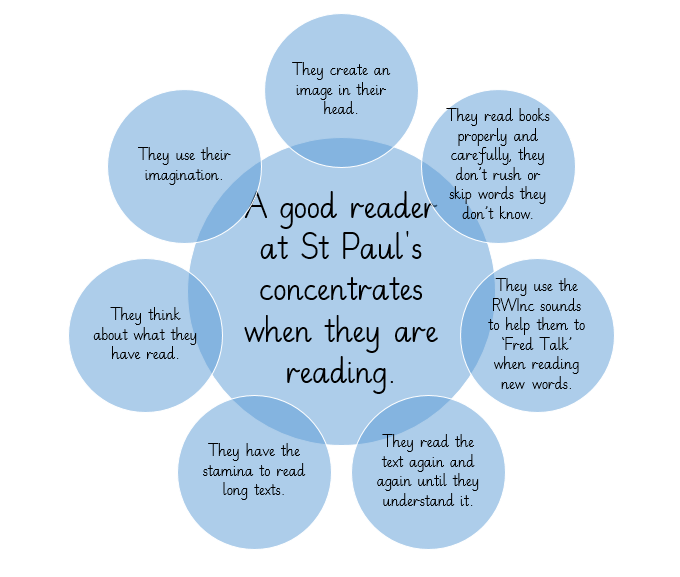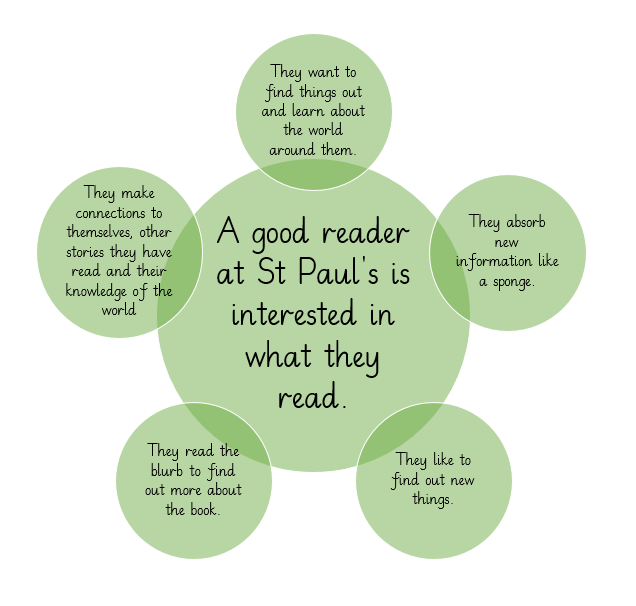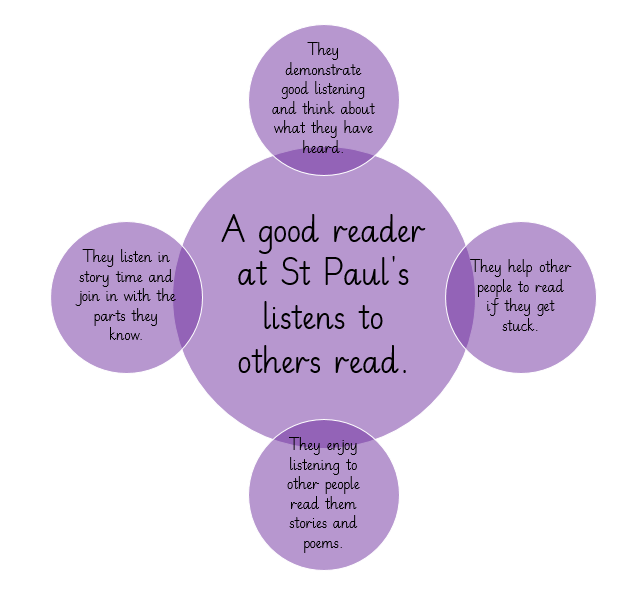 Click here to see which year groups our pupil voice statements come from.
Learning to Read - Our Whole Class Reading Curriculum
Our reading journey begins with our high quality approach to and teaching in phonics.
Please click here to visit our Phonics Page.
As a child grows up, being able to read well, not only enables them to discover new facts and to learn at school, but also opens them up to a world of new ideas and opportunities for lifelong learning and success. As such, St Paul's are committed to ensuring that all children become independent, confident and fluent readers during their time at our school, with the ability to demonstrate understanding of what they have read.
Our priority is to foster a love of reading, enabling the children to become enthusiastic, independent and reflective readers. Success in reading is essential to enabling progress across the whole curriculum and is important in terms of developing children's self-confidence and motivation. Through our reading curriculum, pupils have a chance to develop culturally, emotionally, intellectually, socially and spiritually.
At St Paul's we have a clear, consistent approach to the teaching of Reading to improve achievement and enjoyment in reading.
In Years 2 – 6, we teach reading as a whole class, 5 times a week. Each Reading sessions start with an unfamiliar text that has been chosen to reinforce, challenge and further develop their independent reading strategies. We read the text in a variety of ways, and then children identify any vocabulary in the text they do not understand or cannot fully explain. Children must have opportunities to be exposed to, and explore key vocabulary within texts to build their cultural capital and increase their working vocabulary. Vocabulary is taught via the teacher or independent searches in a dictionary, discussions are had about the correct definition in the context of the text. If there is a suitable synonym for the word, that is also discussed and added to the vocabulary sheet. For every text, the children write a summary of the text in their own words. This is developing the summarising skill and discussions are had about which are the main points of information from the texts.
We have developed questions types, which link to the National Curriculum content domain. We explicitly teach these to the children, as when the children fully understand the question type and what the question is asking, they will have a better insight on how to answer. Children answer questions based on the text and are taught how to use the text to support their answers. Answers are then marked and model answers are shared with the children. Teachers use a wide range of age appropriate texts, with different genres, to enable children to deeply explore ambitious vocabulary and different styles of writing.
In addition, each week we study a high quality book based on a theme. This theme cascades throughout each year group and gives children the opportunity to take part in high quality discussions, facilitate creative responses and widens their reading repertoire.
We truly believe that by inspiring children to read, being read to on a daily basis by an adult and by giving children opportunities to explore a range of rich and appropriately challenging texts through a variety of reading activities they will, in turn, succeed. As in everything we do, we See it! Say it! Learn it! Use it! to ensure that all of our children become immersed in the world of reading.
How We Teach Whole Class Reading
Click on our documents below:
Please find below a sample of the questions types and stems used in whole class reading.
Key Stage 1 Question Types
Key Stage 1 Question Stems
Key Stage 2 Question Types
Key Stage 2 Question Stems
Key Stage 2 Question Strategies
Reading for Pleasure
Reading for pleasure opens up new worlds for children and gives them the opportunity to use their imagination to explore new ideas, visit new places and meet new characters.
Reading for pleasure also improves children's well-being and empathy. It helps them to understand their own identity and gives them an insight into the world and the views of others.
We support this by;
Providing rich library environments featuring a wide range of high quality books.

Having a on-site library which children frequently access, including reading for pleasure at lunchtimes.

Gifting books for birthdays and as prizes for events and attendance throughout the year.

Drop Everything and Read (DEAR) sessions whereby everyone, including staff drops and everything and reads.

Having books available to read outdoors during breaks and lunchtimes.

Pro

minently displaying books that we have read in class and having these on hand to re-read for pleasure.

Promoting sharing books at home through our Read It! Together programme.
Read It! Together
Our Read It! Together approach is to encourage our parents or carers to read with their children by providing them with the books to do so.
Please click here to visit our Read It! Together page to find out more information.
Little People, BIG DREAMS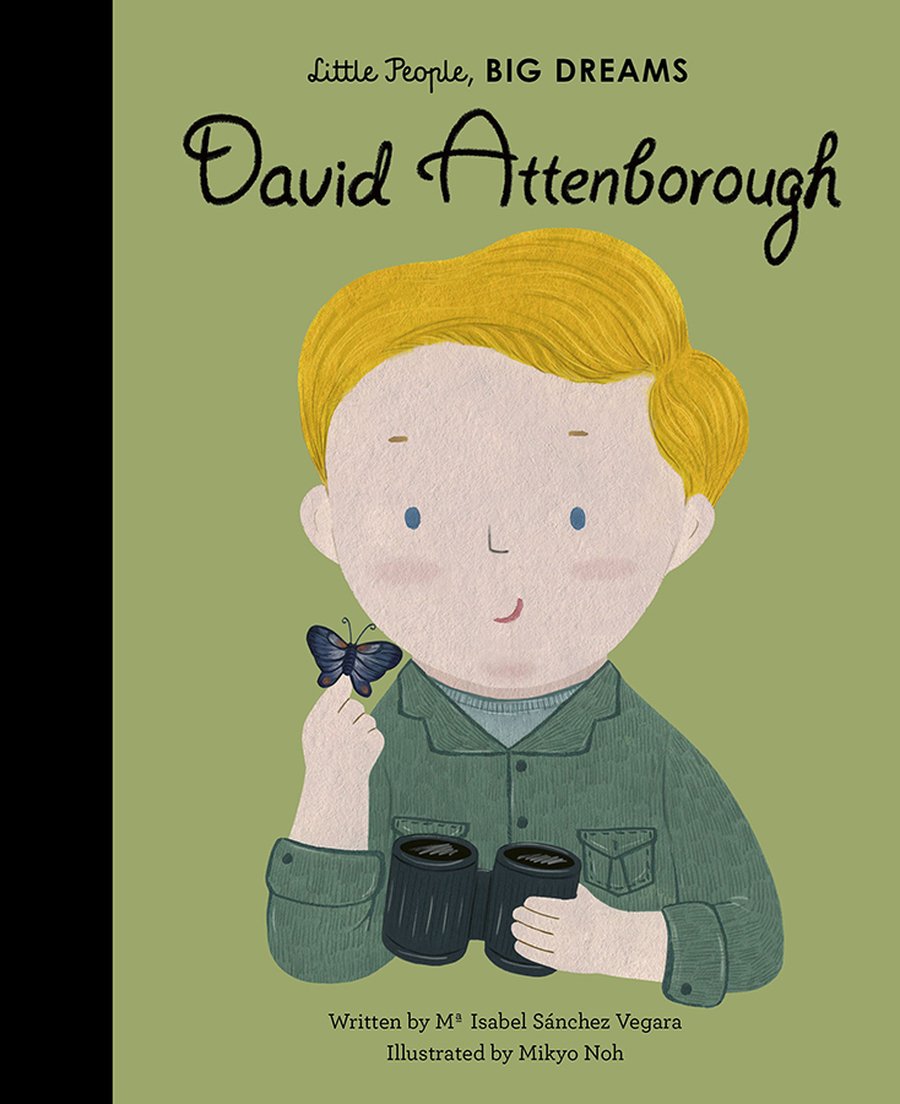 At St Paul's, we have a commitment to empower our children to be the best they can be and to achieve their dreams. One of the many ways we in which we achieve this is by sharing and celebrating the lives of outstanding people who have achieved incredible things, yet each began life as a child with a dream.
Little People, Big Dreams books help our children to discover and celebrate triumph over adversity through some of history's most inspirational people, who each made a big impact in the world around them.
This builds on our children's cultural capital and gives them the strength and the courage to believe in themselves and to dream BIG. These books are a gateway into further discussions, stimulus for class work and self-reflection.
Click here to see our yearly overview for our Little People, BIG DREAMS programme.
Want to help more with reading at home?
Click on our help guides and links below: