'And Gideon said unto them, I will not rule over you, neither shall my son rule over you: the LORD shall rule over you.'
Judges 8:23
British Values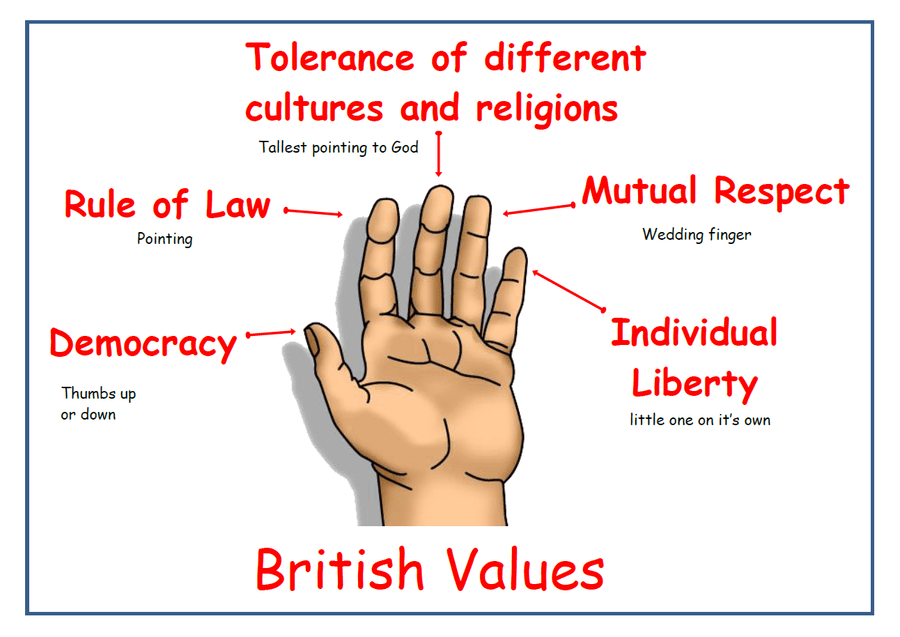 British Values at St Paul's
At St Paul's CE Primary School, we actively promote British Values. We recognise the diversity within our society and ensure that British Values are embedded within our curriculum.
Click here to see our British Values Policy
We promote British Values in the following ways: (Please note that this list is not exhaustive)
Through an integrated approach - click here for our British Values Statement.

Through our SMSC approach - click here for our SMSC page.

Through our Healthy Relationships curriculum (SCARF) - click here for our Healthy Relationships page.
Click here to see our British Values Statement for a further explanation of how we promote British Values.
British Values and SMSC
As a school we actively promote the Spiritual, Moral, Social and Cultural development (SMSC) of our pupils. This includes the promotion of British Values.
This is central to our aims, values and ethos of the school and takes place throughout the school day including during curriculum sessions, promotion through the learning environment, assemblies, playtimes and interactions between people in school.

SMSC in school aims to promote these through:
Learning how to apply these values in life

Understanding the difference between right and wrong

Becoming lawful citizens

Developing skills so that pupils can contribute fully to the British way of life

Understanding and respecting the range of different cultures in / beyond school
At St Paul's we will actively challenge pupils, parents or staff expressing opinions contrary to fundamental British Values, including extremist views.
Click here to see our SMSC page.
British Values and Healthy Relationships (SCARF)
Our Healthy Relationships curriculum provides a robust framework for promoting a positive ethos and values cross the school community, contributing significantly to British Values education, both explicitly and implicitly.
The focus across the three themes of Health and Well-being, Relationships and Living in the Wider World foster and develop children's responsibility for their own actions; respect for the actions and beliefs of others; an understanding of how each individual is protected by the rule of law; and how everyone can make a positive contribution to society through the democratic process.
Many of our SCARF lessons relate directly to one or all of the British Values' themes of:
Democracy

The Rule of Law

Individual Liberty

Mutual Respect

Tolerance of those with Different Faiths and Beliefs.
Click here to see our Healthy Relationships page.