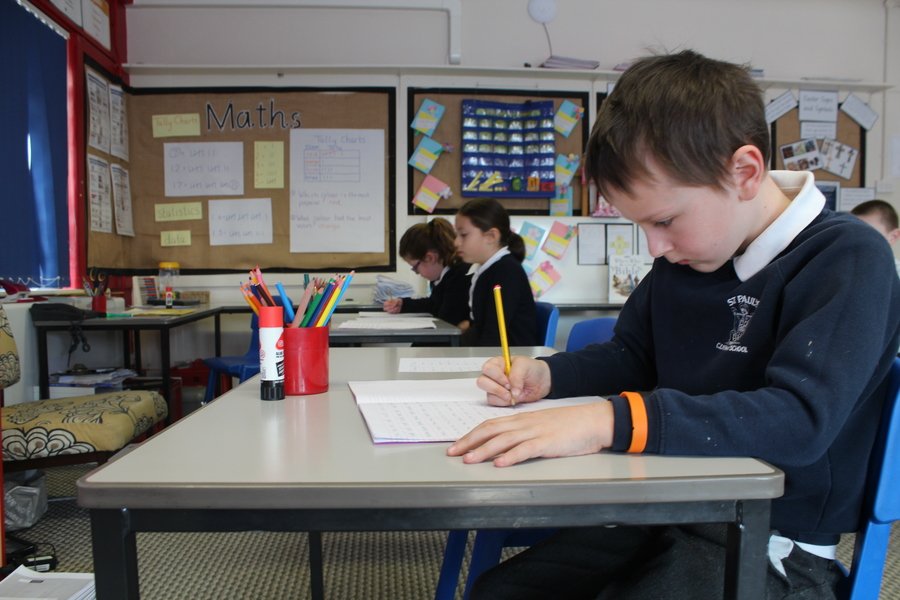 Our Golden Thread
Everything that we do in St Paul's CE Primary School is deeply rooted in the teachings of St Paul.
'Keep alert. Be firm in your faith. Stay brave and strong. Be all that you do be done in love'
1 Corinthians 16 13:14
It provides us with our school motto.
Shine in the Love of God
It is reflected in our core Christian values of:
LOVE
Friendship - Hope - Respect - Trust - Forgiveness
This is what underpins St Paul's Curriculum.
Our Curriculum Drivers

 
St Paul's CE Primary School is situated in the East Ward of Bury in Greater Manchester.
Currently, the location of St Paul's means that we are an area which is in the lowest 1% in relation to deprivation compared to the rest of the UK.
Our school is diverse and multicultural, our policy of acceptance and inclusion means that we also have a large number of children at school who have English as a second language. At present we have 33 different languages spoken within school.
All of these different factors can culminate in significant barriers to learning for our some of our children, along with some of our children being unable to speak English.
Therefore, it is very important to St Paul's that our curriculum is right for our school and our children. Our curriculum needs to be able to overcome any barriers to learning that our children may experience.
We want to teach knowledge and skills, but also experiences and wonderment of the world. We want to prepare our children for their next stage of learning and ultimately life as a citizen in the 21st Century.
Our curriculum drivers are
See it!

 

Say it!

 

Learn it!

 

Use it!
Click here to see an overview of our curriculum drivers.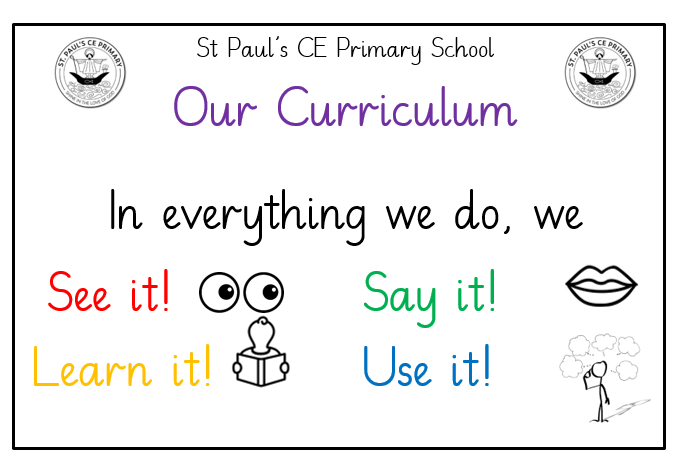 See It!
All of our learning begins with See it! Barrier to overcome - Limited real life experiences
This is visual stimulation for:
T

he beginning of a new unit of learning - this maybe a trip or a visitor who comes in to school.

The beginning of each lesson - this maybe a video clip, a television programme, an artifact or a photograph.
This is to ensure that our children can SEE what the new learning is. There is never an assumption that the children will know what the new learning is about.
Say It!
The next phase in the sequence is Say it! Barrier to overcome - Language acquisitions
This phase is to immerse our children in a vocabulary rich environment. It enables us not only to give the children the language to succeed in their learning but also to widen their vocabulary to use throughout their lives.
Language is also learnt through discussion and opportunities for the children to talk to one another about their ideas, thoughts, opinions and learning.
Learn It!
Our new learning phase is Learn it! Barrier to overcome - Learning styles and behaviour for learning.
During our learning phase we use a variety of learning styles and meta cognition approaches to help our children to remember what they have been taught.
We use inclusive approaches so that children of all abilities are able to access the curriculum.
We use Knowledge Mats, Sticky Knowledge quizzes and Remember it!, to ensure that our children's knowledge is firmly embedded in their long term memory.
Use It!
Our final phase is Use it! Barrier to overcome - Retention and application of knowledge
In the last phase, we provide opportunities and learning experiences to ensure that the children:
Understand the bigger picture of their learning

Are able to apply what they have learnt in different contexts

Makes links between their learning

Remember previous learning and link it what they are learning now.

Embed their learning into their

long term memory.
Our Curriculum Scope
Our curriculum scope ensures that not only is our curriculum is broad and balanced but it also ensures that we address all of the requirements of the aims and the objectives of the National Curriculum in every subject.
Our Curriculum Endpoints
In each curriculum area we have written clear and concise endpoints. This is to ensure that:
The teachers are clear on what they have to teach

Our curriculum addresses the knowledge that the children need to learn.

Our curriculum covers the National Curriculum

Children learn skills, knowledge and key concepts that get progressively harder are they move up the school.